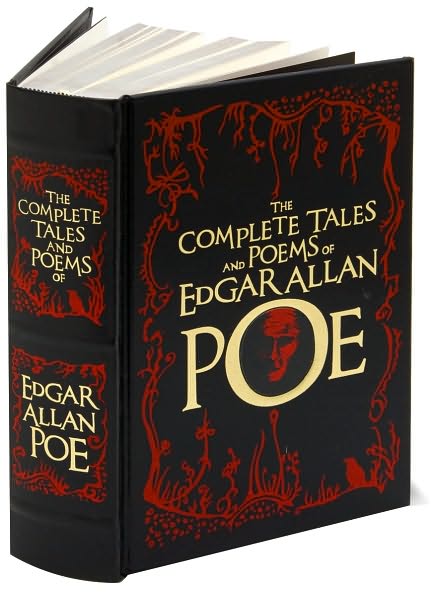 The Complete Tales and Poems of Edgar Allan Poe
is a collection put together by the company Barnes & Noble Inc. It contains every single piece of literary work that Poe had ever written. Including his only novel,
The Narrative of Arthur Gordon Pym of Nantucket,
which sadly ended up being one of the worst novels ever published. However, I decided to read several of his poems, all having a related theme: The death of a beautiful girl. I chose the following poems: "The Raven," "Eldorado," "To Helen," "Deep in Earth," "A Valentine," "Annabel Lee," and several other poems. They all hold the central plot of either a beautiful girl dying or the lost of a love one. Sub plots include simple reflection on Romance and the feeling of loneliness. Poe has commonly been looked at as been a Dark Romantic, which is a somewhat accurate description of his writings and beliefs. However, when you deeper into his work, the reader begins to feel sympathy for this man and begins to understand why so much of his work is seen as almost depressing in some cases. The poem "Annabel Lee" is usually connected to the death of his beloved wife, Virginia Clemm, who died while they were young. And "The Raven" talks of a man who has lost the love of his life and feels no need to live a happy life anymore. "A Valentine" is one of his only poems that contains no signs of depression or darkness. It's a simple, yet elegant love poem; possibly for Virginia. It should also be noted that Poe's idle, a mother of a friend, died when he was still in his younger years. This definitely contributed some grief to the hopeless romantic. Overall, his love was anything but amazing. However, the reader must keep in mind that not all great writers come from a great past. If that was the case, there would be nowhere as much amazing literary work than there is today.
1. If the love of your life died, would you be able to accept his/her death? Or would a piece of you feel broken for the rest of your life? Would you be able to fall in love again?
2. What are your views on Poe? Do you like his work? Why do you think his only novel flopped?
3. Would you consider Poe to be an 'old school emo?'